Personalized Retargeting Wins for Online Retailer
A national office supply store wants to capitalize on the $28 billion back-to-school season this year by retargeting website traffic with direct mail offers. With millions of daily website visitors there's plenty of traffic, and remarketing those visitors showing interest in back-to-school products with personalized retargeting seems like a great way to find the most relevant shoppers during this short shopping season. Plus, like other online retailers in the back-to-school category, this retailer sees the majority of sales occur in-store. Here's how this retailer learned how to boost sales from website traffic using a science-backed method combining coupon strategies, A/B testing, audience segmentation, and offer personalization.
Audience Segmentation Key To Efficient Remarketing
We developed an audience segmentation plan based on behavioral insights from the visitor's session. We also appended household characteristics to know whether the visitor was likely to have school-age children or not living in the household. We had three primary audience segments:
1) visitors who viewed back to school products (as identified by a list of specific back-to-school SKUs).
2) visitors who navigated to the back-to-school section of the website (but did not look at back-to-school products).
3) visitors that did not visit the back-to-school section or look at back-to-school products, but do have school-aged children living in the household (as indicated by a national consumer file).
We also tested two coupon offer amounts, and tested whether sending a personalized postcard (using an image of one of the products actually viewed by that visitor) produced different results vs a generic branded, control postcard.
Direct mailings were sent from late-June through early September and results were summarized across several attributes, including when each household would start school.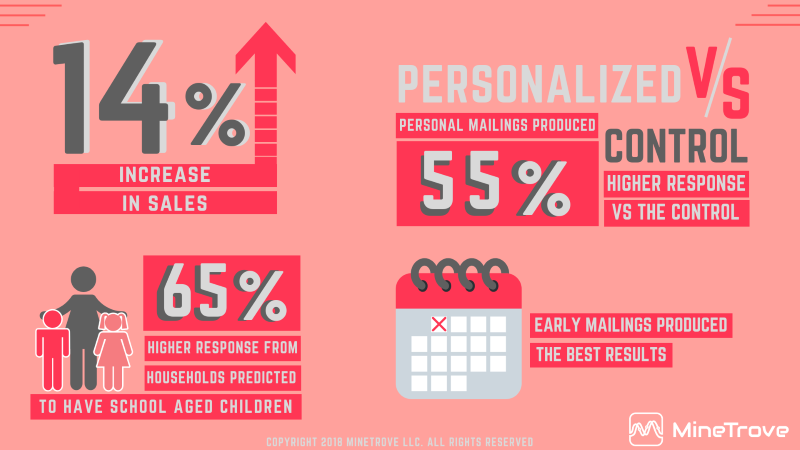 Personalized Offers Are Key To Maximize Sales Lift
Having facilitated a properly structured test, we were able to measure many different factors to identify the best performing segments. Using web behavior data and enhancement data from a national consumer file allowed us to measure performance against several attributes.
Overall, this website remarketing campaign produced a 14% INCREASE in sales vs the holdout group, achieving the retailer's customer acquisition goal.
From a timing perspective, the optimal time for back to school marketing was 1-2 months before school starts, similar to another study showing 73% of back-to-school sales come 1-2 months before school resumes was from customers who bought in September. They had the most time to prepare and be reminded by the mailing to purchase their back to school items.
Personalized offers increase website sales the most. The personalized postcard, which included the actual image of one of the back-to-school products viewed by that visitor, substantially outperformed the control (non-personalized) version, increasing lift by 55%.
The $5 offer was more profitable but the $10 offer produced a higher lift in response.
Presence of children (via the national consumer file append) was a huge hit, showing that in each segment tested, visitors flagged with presence of school-aged children outperformed the rest having a 65% higher response rate.
We also found that when the head of household was middle aged OR retired, there was greater lift, which is likely due to the presence of school aged children or grandchildren.
Implementing direct mail retargeting into your marketing plan can significantly improve response rates and grow online sales as well as provide your business key insights on how improve your marketing strategy in the future.